boss range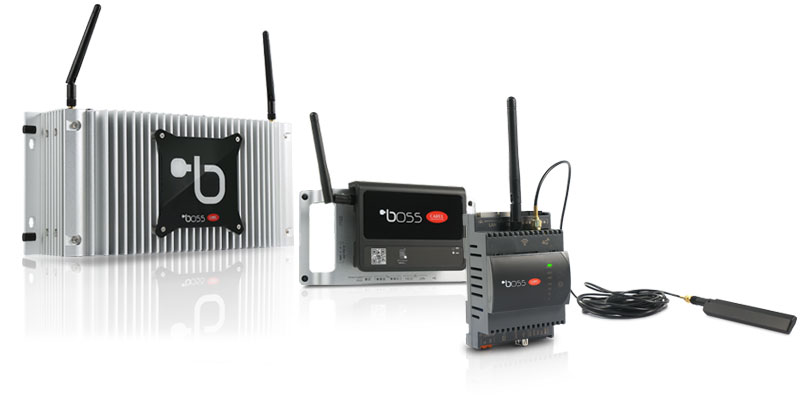 General characteristics

Comparative table of the features - 10-2022 version

boss is the new CAREL local supervisor for medium and large systems, featuring built-in Wi-Fi and access from all mobile devices. Access to all boss pages for both programming and everyday operations using mobile devices has been made possible thanks to the responsiveness of its pages. These adapt their graphics automatically to the device they are displayed on (computers with different screen resolutions, tablets, smartphones), minimizing the need for the user to resize the pages and scroll the contents. Moreover, for the first time ever on a CAREL supervisor, boss introduces the BACnet protocol, the leading protocol in HVAC supervision applications.

Completely browsable from mobile devices, for commissioning to daily access for system maintenance.
Built-in Wi-Fi to create a network and allow the supervisor to be accessed from the user's devices without requiring other network infrastructure.
All the information is available to the user in just a few simple clicks, including system configuration and device management.
Energy saving and system optimization using algorithms for analysis and comparison, developed exploiting CAREL's experience, to facilitate and guide users in optimizing energy consumption.
Centralized management through automatic data and alarm synchronization with RemotePRO, so as to keep the situation on all connected systems under control from just one interface.
Access to typical operating system functions, such as printer driver installation, copying files, etc. is also available via a web interface.
Introduction of the BACnet protocol, the leader in HVAC supervision applications, for connection to third party devices and integration of boss into BMS systems
User interfaces with customizable graphics based on how the information is required by different users
The absence of an internal fan and heat dissipation ensured by a robust aluminium casing mean boss can be installed in many different environments, including industrial environments.

Plus

Be smart

Integrated WI-FI hotspot for easy access without any extra infrastructure;
Intuitive interface, fully mobile compatible and completely customisable.
Built-in 4G modem (boss-micro size) for Internet connectivity independent of the building's network infrastructure.

Optimisation

Autoconfiguration mechanisms for faster commissioning;
Improved system behaviour through a wide choice of add-ons, such as safe rack restart or unit performance dashboard.

Scalability

Different hardware versions to fit all scenarios and needs;
Smart edge solution within CAREL IoT platform;
Integration with/of third party systems.

Security

New alarm notification channels for a fast response (instant messaging);
Software in compliance with advanced security standards.
Documentation
Commercial
Catalogues

* Entries are ordered by date

Code
Description
Language
Date *
Release

Code

+800004030

Description

Soluzioni per Unità Trattamento Aria: Tecnologia e competenza per la qualità dell'aria e il risparmio energetico

Language

ITA

Date

01/07/2022

Release

1.1

Code

+800004031

Description

Solutions for Air Handling Units: Technology and expertise for indoor air quality and energy saving

Language

ENG

Date

01/07/2022

Release

1.1

Success Story

* Entries are ordered by date

Code
Description
Language
Date *
Release

Code

+4000063IT

Description

Polo Museale di Castel Sant'Angelo: Sistema di monitoraggio, controllo ed umidificazione delle sale espositive

Language

ITA

Date

18/10/2017

Release

1.0

Code

+4000063EN

Description

Castel Sant'Angelo museum complex: Monitoring, control and humidification system in the exhibit rooms.

Language

ENG

Date

18/10/2017

Release

1.0

Code

+4000063ES

Description

Complejo museístico de Castel Sant'Angelo Sistema de monitorización, control y humectación de las salas expositoras.

Language

SPA

Date

18/10/2017

Release

1.0

Brochure

* Entries are ordered by date

Code
Description
Language
Date *
Release

Code

+3000176EN - Chillventa 2022

Description

OnShow - Chillventa 2022

Language

ENG

Date

05/10/2022

Release

2.0

Code

+3000224IT

Description

Educational - Utilizzare nel modo migliore tecnologie e sistemi delle applicazioni HVAC/R

Language

ITA

Date

24/01/2022

Release

1.1

Code

+3000224EN

Description

Educational - Make the best use of HVAC/R application technologies and systems

Language

ENG

Date

24/01/2022

Release

1.1

Code

+3000110IT

Description

boss la gamma completa per la supervisione locale mobile ready

Language

ITA

Date

11/05/2021

Release

3.0

Code

+3000110EN

Description

boss The complete range for mobile-ready local supervision

Language

ENG

Date

11/05/2021

Release

3.0

Code

+3000110FR

Description

boss La gamme complète pour la supervision locale mobile-ready

Language

FRE

Date

11/05/2021

Release

3.0

Code

+3000110DE

Description

boss Das komplette Programm für die mobile Vor-Ort-Überwachung

Language

GER

Date

11/05/2021

Release

3.0

Code

+3000110ES

Description

boss La gama completa para la supervisión local móvil

Language

SPA

Date

11/05/2021

Release

3.0

Code

+3000110PL

Description

boss Kompletna oferta systemów lokalnego nadzoru w trybie mobilnym

Language

POL

Date

11/05/2021

Release

3.0

Code

+3000110PT

Description

boss a linha completa para a supervisão local pronta para a mobilidade

Language

POR

Date

11/05/2021

Release

3.0

Code

+3000203IT

Description

Industria del vino: Soluzioni per la termoregolazione e supervisione

Language

ITA

Date

05/05/2021

Release

1.1

Code

+3000203EN

Description

Wine industry: Temperature control and supervisory solutions

Language

ENG

Date

05/05/2021

Release

1.1

Code

+3000203ES

Description

Industria del vino: Soluciones para el control de la temperatura y la supervisión

Language

SPA

Date

05/05/2021

Release

1.1

Code

+3000106EN - Euroshop

Description

On Show - Euroshop 2020

Language

ENG

Date

07/02/2020

Release

4.0

Code

+3000193IT

Description

Umidificazione diretta: Soluzioni all'avanguardia per ambienti industriali e commerciali

Language

ITA

Date

15/11/2019

Release

1.1

Code

+3000103PT

Description

humiSonic Umidificadores adiabáticos de ultrassons

Language

POR

Date

31/10/2019

Release

2.0

Code

+3000164IT

Description

k.water e k.air Soluzioni per l'integrazione degli impianti HVAC

Language

ITA

Date

09/09/2019

Release

2.0

Code

+3000164EN

Description

Solutions for integration of HVAC systems

Language

ENG

Date

09/09/2019

Release

2.0

Code

+3000164ES

Description

Soluciones para la integración de instalaciones HVAC

Language

SPA

Date

09/09/2019

Release

2.0

Code

+3000110RU

Description

boss Полный модельный ряд оптимизированных для мобильных устройств систем диспетчерского управления

Language

RUS

Date

01/09/2019

Release

2.4

Code

+3000110JA

Description

boss モバイル対応 ローカル監視装置

Language

JAP

Date

01/09/2019

Release

2.4

Code

+3000171ZH

Description

On Show at China Refrigeration 2019

Language

CHI

Date

01/04/2019

Release

2.0

Code

+3000195PT

Description

On Show - Apas 2019

Language

POR

Date

01/04/2019

Release

1.0

Code

+3000130EN

Description

On Show at ATMOsphere Europe 2018

Language

ENG

Date

28/11/2018

Release

2.1

Code

+3000176EN

Description

On show at Chillventa 2018

Language

ENG

Date

01/10/2018

Release

1.0

Code

+3000179ES.pdf

Description

On Show - Climatización y Refrigeración 2019

Language

SPA

Date

01/10/2018

Release

1.0

Code

+3000106PL - Euroshop

Description

ON SHOW - Euroshop

Language

POL

Date

05/03/2017

Release

3.0

Code

+3000106EN_chillventa

Description

On Show - Chillventa 2016

Language

ENG

Date

08/10/2016

Release

2.0
Images
High resolution images

* Entries are ordered by date

Code
Description
Language
Date *
Release

Code

PH21LBM301-Boss-Range

Description

boss Range- CAREL-Remote management and monitoring systems-Local Monitoring systems

Language

ALL

Date

06/09/2021

Release

R.0