humiFog
UA*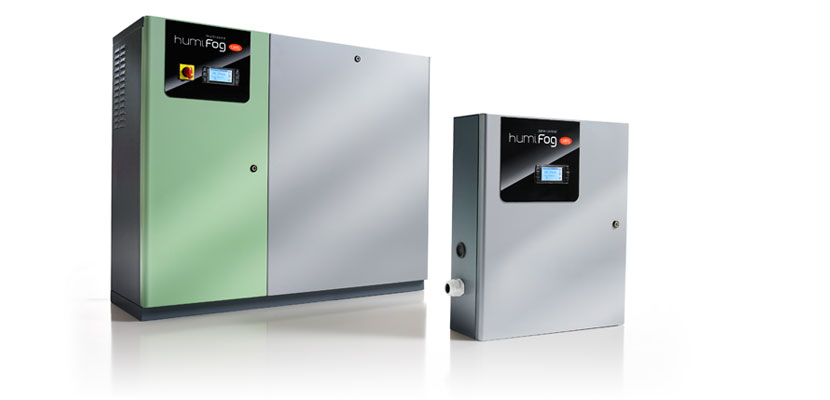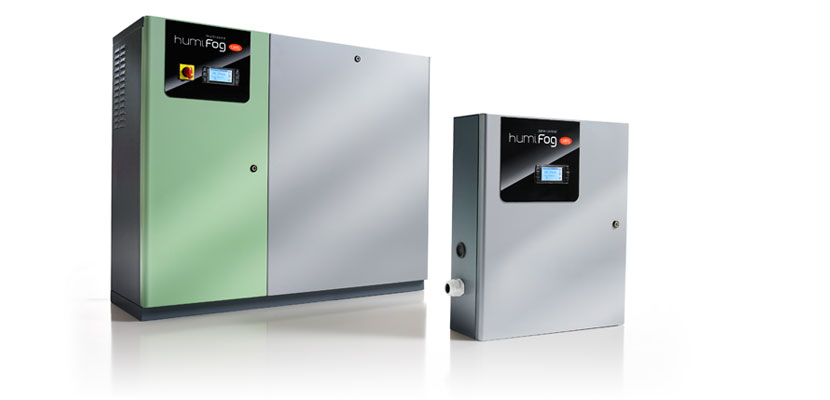 General characteristics

humiFog is an atomizing adiabatic humidifier which uses the pressurized energy given by a pump and the nozzles mounted on the edge of a frame (rack) to atomize demineralized water into micrometric drops in the air treatment duct or in the environment to humidify.




Thanks to the technology used, humiFog proves to be a highly efficient and accurate product.




The efficiency is given by the high pressure: the volumetric piston pump allows it to reach a pressure of 70 bar, which, together with the special nozzles, atomize the water in droplets of a diameter of approximately 15 µm..




The accuracy is given by a series of factors:

the inverter, which acts on the rotation speed of the pump and on its modulation and therefore follows the request with accuracy up to 2%

the solenoid valves on the edge of the rack intercept the flow rate provided by dividing it into steps in order to meet the instantaneous demand

the Carel electronic controller allows a total control and interface of the operation of the parameters of the system.

humiFog Multizone, in addition to humidification, can also be used for adiabatic cooling, both direct and indirect: the possibility to manage more than one area in master and slave configuration is ideal in this regard. These features allow the installation of humiFog in all environments, from comfort applications to delicate industrial processes. The hygiene certificate, in accordance with standard VDI6022, allows installation also in hospitals and clean rooms.




humiFog is available in the following sizes: 26, 53, 85, 460, 122, 264 gallons/h. The distribution system (rack) is designed on the specifications of the customer, it will have ad hoc dimensions and capacity depending on the characteristics of the project and on the air treatment unit.

Plus

energy saving: very low power consumption compared to a cooling of tens of thermal kW

master and slave configuration to serve up to 6 independent areas with a single pumping unit

certified hygiene thanks to the use of demineralized water, washing cycles, complete drainage of water and the use of materials according to the law, without the use of chemicals and biocides

large capacity up to 264 gallons/h for applications such as spray booths and data centers.
Documentation
Commercial
Compendium

* Entries are ordered by date

Code
Description
Language
Date *
Release

Code

+4000021IT

Description

Umidificazione dell'aria negli ospedali e nelle strutture sanitarie con obiettivo "risparmio energetico"

Language

ITA

Date

21/01/2013

Release

1.0

Code

+4000021EN

Description

Air humidification in hospitals and healthcare structures with the objective of saving energy

Language

ENG

Date

21/01/2013

Release

1.0

Code

+4000021ZH

Description

Hospital compendium

Language

CHI

Date

10/01/2012

Release

1.0

Success Story

* Entries are ordered by date

Code
Description
Language
Date *
Release

Code

+4000066IT

Description

Stop ai fermi macchina in Ferrarelle La soluzione CAREL in ambiente

Language

ITA

Date

07/02/2018

Release

1.0

Code

+4000066EN

Description

No more machinery downtime at Ferrarelle CAREL's in-room solution

Language

ENG

Date

07/02/2018

Release

1.0

Code

+40C200070

Description

Nissan Motors-Smyrna,TN USA automotive paint booth humidification using

Language

CHI

Date

29/07/2015

Release

1.0

Code

+4000023DE

Description

Feuchteregelung und Energieeinsparung für ein nachhaltiges Krankenhaus

Language

GER

Date

01/04/2013

Release

1.0

Code

+4000023EN

Description

Humidity control and energy saving for a sustainable hospital

Language

ENG

Date

01/04/2013

Release

1.0

Code

+4000023ES

Description

Control de la humedad y ahorro energético para un hospital sostenible

Language

ENG SPA

Date

01/04/2013

Release

1.0

Code

+4000023FR

Description

Régulation de l'humidité et économie d'énergie pour un hôpital écologique

Language

FRE

Date

01/04/2013

Release

1.0

Code

+4000023ZH

Description

Humidity control and energy saving for a sustainable hospital, Thiene-Schio Hospital

Language

CHI

Date

04/01/2013

Release

1.0

Code

+4000011EN

Description

Controlled humidification for research experiments

Language

ENG

Date

25/08/2011

Release

1.0

Code

+4000011IT

Description

Umidificazione controllata per esperimenti di ricerca

Language

ITA

Date

25/03/2011

Release

1.0

Code

+4000008EN

Description

Precise humidification for quality printing

Language

ENG

Date

18/01/2011

Release

1.0

Code

+4000008IT

Description

Umidificazione precisa per una stampa di qualità

Language

ITA

Date

18/01/2011

Release

1.0

Code

+4000006EN

Description

Optimum all-seasons air-conditioning and energy saving

Language

ENG

Date

22/10/2010

Release

1.0

Code

+4000006IT

Description

Condizionamento ottimale in ogni stagione ed energy saving

Language

ITA

Date

22/10/2010

Release

1.0

Code

+4000006ZH

Description

Success story humifog multizone-hotel parchi del Garda.

Language

CHI

Date

22/10/2010

Release

1.0

Code

+402200260

Description

Umidificazione in tortellificio DALÌ - ITALIA Humidification at the DALÌ fresh pasta factory - ITALY

Language

ENG ITA

Date

10/12/2008

Release

1.0

Code

+40C200260

Description

DALI意式面食工厂加湿系统—意大利

Language

CHI

Date

10/12/2008

Release

1.0

Code

+402200240

Description

Umidificatore ad acqua in pressione in BDN - Wykroty - POLONIA High pressure water humidifier in BDN - Wykroty - POLONIA Hoge druk verneveling in BDN - Wykroty - Polen

Language

DUT ENG ITA

Date

03/11/2008

Release

1.0

Code

+40C200240

Description

波兰-Wykroty-BDN的高压水加湿器

Language

CHI

Date

03/11/2008

Release

1.0

Code

+402200250

Description

Raffrescamento e umidificazione in CONTINENTAL - Czech Republic Cooling and humidification in CONTINENTAL - Czech Republic

Language

ENG ITA

Date

15/09/2008

Release

1.0

Code

+40C200250

Description

捷克大陆集团工厂的冷却与加湿

Language

CHI

Date

15/09/2008

Release

1.0

Code

+402200020

Description

humiFog at the HSBC bank

Language

ENG ITA

Date

04/09/2007

Release

2.0

Code

+402200170

Description

Umidificazione di una fabbrica tessile/ Humidification of a textiles factory

Language

ENG ITA

Date

02/09/2007

Release

1.0

Code

+402200150

Description

Adiabatic air conditioning at Peñagrande subway station, Madrid - Spain Adiabatic air conditioning at Peñagrande subway station, Madrid - Spain

Language

ENG FRE

Date

13/06/2007

Release

1.0

Code

+40C200150

Description

Adiabatic air conditioning at Penagrande subway station, Madrid-Spain-humiFog

Language

CHI

Date

13/06/2007

Release

1.0

Code

+402200100

Description

Adiabatic humidification system applied to a manufactory producing aluminium packaging

Language

ENG ITA

Date

01/03/2006

Release

1.0

Brochure

* Entries are ordered by date

Code
Description
Language
Date *
Release

Code

+3000018IT

Description

L'umidità è importante! Umidificatori CAREL, una soluzione per ogni richiesta

Language

ITA

Date

15/09/2020

Release

4.1

Code

+3000018DE

Description

Die Feuchte zählt! CAREL-Befeuchter, eine Lösung für jedes Anliegen.

Language

GER

Date

15/09/2020

Release

4.1

Code

+3000018EN

Description

Humidity matters! CAREL humidifiers, a solution for every need

Language

ENG

Date

15/09/2020

Release

4.1

Code

+3000018ES

Description

¡La humedad es importante! Humidificadores CAREL, una solución para cada necesidad

Language

ENG SPA

Date

15/09/2020

Release

4.1

Code

+3000018PL

Description

Nawilżanie ma znaczenie! Rozwiązania CAREL dla twoich potrzeb nawilżania

Language

POL

Date

15/09/2020

Release

4.1

Code

+3000193IT

Description

Umidificazione diretta: Soluzioni all'avanguardia per ambienti industriali e commerciali

Language

ITA

Date

15/11/2019

Release

1.1

Code

+3000193EN

Description

Direct humidification: Advanced solutions for industrial and commercial environments

Language

ENG

Date

15/11/2019

Release

1.1

Code

+3000193DE

Description

Direkte Raumbefeuchtung Innovative Lösungen für die Industrie und den Handel

Language

GER

Date

15/11/2019

Release

1.1

Code

+3000193ES

Description

Humectación directa Soluciones avanzadas para ambientes industriales y comerciales

Language

SPA

Date

15/11/2019

Release

1.1

Code

+3000193NL

Description

Directe bevochtiging Geavanceerde oplossingen voor industriële en commerciële omgevingen

Language

DUT

Date

15/11/2019

Release

1.1

Code

+3000171ZH

Description

On Show at China Refrigeration 2019

Language

CHI

Date

01/04/2019

Release

2.0

Code

+3000007DE

Description

humiFog multizone: Kühlung der Luft durch die Energie des Wassers

Language

GER

Date

05/02/2019

Release

3.0

Code

+3000007EN

Description

humiFog multizone: The energy of water to humidify the air

Language

ENG

Date

05/02/2019

Release

3.0

Code

+3000007ES

Description

humiFog multizona: La energía del agua para enfriar el aire

Language

SPA

Date

05/02/2019

Release

3.0

Code

+3000007FR

Description

humiFog multizone: L'énergie de l'eau pour refroidir l'air

Language

FRE

Date

05/02/2019

Release

3.0

Code

+3000007IT

Description

humiFog multizone: L'energia dell'acqua per raffreddare l'aria

Language

ITA

Date

05/02/2019

Release

3.0

Code

+3000007RU

Description

humiFog multizone

Language

RUS

Date

05/02/2019

Release

3.0

Code

+3000179ES.pdf

Description

On Show - Climatización y Refrigeración 2019

Language

SPA

Date

01/10/2018

Release

1.0

Code

+3000054FR

Description

Solutions permettant d'économiser l'énergie dans les centres de données

Language

FRE

Date

11/10/2016

Release

2.0

Code

+3000054DE

Description

Energiesparlösungen für Rechenzentren

Language

GER

Date

11/10/2016

Release

2.0

Code

+3000054ES

Description

Soluciones para el ahorro energético en los data center

Language

SPA

Date

11/10/2016

Release

2.0

Code

+3000106EN_chillventa

Description

On Show - Chillventa 2016

Language

ENG

Date

08/10/2016

Release

2.0

Code

+3000018ZH

Description

湿度问题! CAREL解决方案 满足您的加湿需求

Language

CHI

Date

19/02/2015

Release

3.0

Code

+3000007ZH

Description

多区域humiFog 绝热加湿器 雾化水冷却空气

Language

CHI

Date

02/02/2015

Release

2.0

Code

+3000007AR

Description

HUMIFOG MULTIZONE

Language

ARA

Date

02/02/2015

Release

2.0

Code

+3000059DE

Description

Reinräume Feuchteregelung und Klimatechnik

Language

GER

Date

20/03/2013

Release

1.0

Code

+3000059EN

Description

cleanrooms humidity and AHU control solutions

Language

ENG

Date

20/03/2013

Release

1.0

Code

+3000059FR

Description

Salles propres: Régulation de l'humidité et régulation des CTA

Language

FRE

Date

20/03/2013

Release

1.0

Code

+3000059IT

Description

camere bianche: controllo dell'umidità e regolazione della CTA

Language

ITA

Date

20/03/2013

Release

1.0

Code

+3000007CS

Description

humiFog multizone: vysokotlaký adiabatický zvlhčovací systém

Language

CZE

Date

22/07/2010

Release

1.1

Code

+3000007NL

Description

humiFog multizone: Hogedruk-watervernevelaars

Language

DUT

Date

22/07/2010

Release

1.1

Code

+30U0007EN

Description

humiFog multizone: high pressure atomized water humidifier

Language

ENG

Date

22/07/2010

Release

1.1

Code

+302238597

Description

Cold Rooms

Language

RUS

Date

12/09/2007

Release

1.0

Code

+302235433

Description

Контроль влажности в текстильной промышленности

Language

RUS

Date

02/07/2007

Release

1.0

Code

+302235382

Description

solutions pour l'industrie du tabac

Language

FRE

Date

15/01/2006

Release

1.0

Code

+302235383

Description

Lösungen für die Tabakindustrie

Language

GER

Date

15/01/2006

Release

1.0

Code

+302235384

Description

soluciones para la industria del tabaco

Language

SPA

Date

15/01/2006

Release

1.0
Local Information
Local Information

* Entries are ordered by date

Code
Description
Language
Date *
Release

Code

+3000018EN

Description

Humidity matters! CAREL humidifiers, a solution for every need

Language

ENG

Date

15/09/2020

Release

4.1

Code

+3000018ES

Description

¡La humedad es importante! Humidificadores CAREL, una solución para cada necesidad

Language

ENG SPA

Date

15/09/2020

Release

4.1

Code

+4000023EN

Description

Humidity control and energy saving for a sustainable hospital

Language

ENG

Date

01/04/2013

Release

1.0

Code

+4000021EN

Description

Air humidification in hospitals and healthcare structures with the objective of saving energy

Language

ENG

Date

21/01/2013

Release

1.0